Westborough High School Rebrand and an interview with Headteacher Jennifer Napper
We have worked with the team at Westborough high school for over 2 years and we absolutely love working with them. Seeing how the school has evolved in that short time and the positive impact the whole school branding process has had throughout the school is incredibly satisfying and reminds us all why we do what we do.

Jennifer Napper the Headteacher at Westborough was kind enough to talk about the whole experience and the impact it has had in this short film.
Logo design and developing the schools brand
Using the D4E lesson plans we worked with a group of students and staff to determine the brand values for the new Westborough High School brand. The outcome of this session determined these brand values:
Excellent support structure throughout the school where everyone looks out for each other including pastoral support and peer to peer support.
A Diverse and multicultural school where everyone is made to feel welcome.
High achievement for all
Based on these brand values the new school logo evolved to include; a circle of students supporting each other surrounding a globe to represent the diverse nature of the school. The strapline 'Together we succeed…' summed up the values and aspiration of the school special.
Just the beginning…
Developing the new school brand was just the start of the project, the new brand was rolled out through the school. Follow the links below to find out more about each project: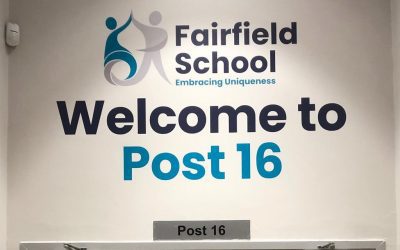 Based in Batley, West Yorkshire, Fairfield School is a special school catering to the complex needs of students aged from four to nineteen. We were approached by the school business manager Steve Walsh, as they were looking to undertake a rebranding project to reflect their new vision and values. You can see the finished results of their new school branding here.