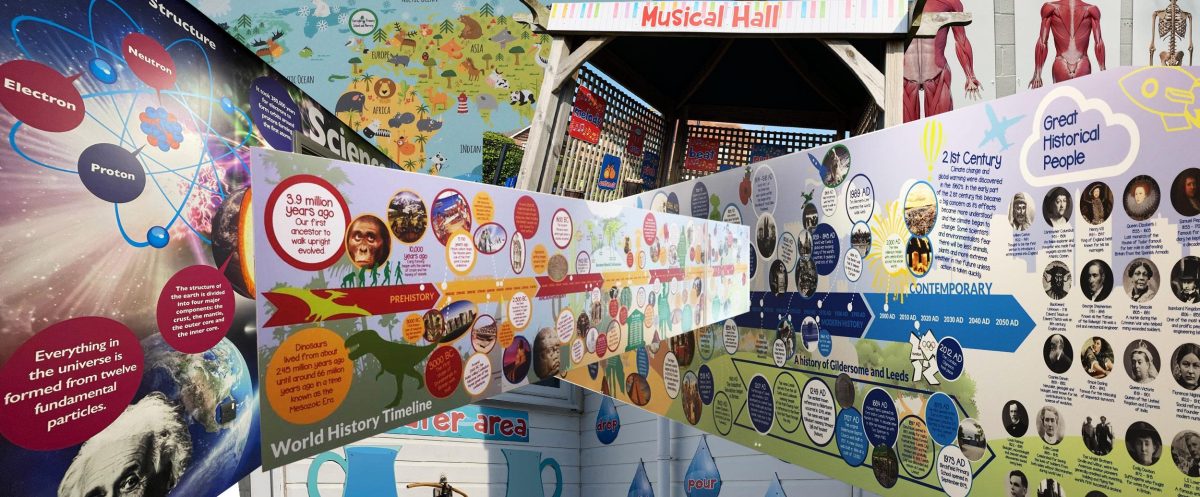 Wall Art for Schools
Our wall art range can help transform the look of your school, allowing you to promote your vision and values amongst pupils, teaching staff and guests while inspiring learning. Our displays encourage students to learn by making subjects fun and easy to understand.
The Design For Education team specialises in creating engaging educational materials for schools. Our wall art product range suits many different types of school and education setting.
Please browse our range below, which we have separated into different curriculums and subjects. We have wall art available for both indoor and outdoor use, which can be purchased quickly and conveniently through our website store.

Our history wall art allows you to take your class on a journey through time. These displays cover global history in line with the national curriculum, historical facts from your local area, and details of famous historical people. Our creative wall art makes this subject fun, inspiring and easier to understand for pupils.
Maths can be challenging for pupils in early years education to grasp, but our animal numbers on boards helps children to understand this subject in a fun and engaging way.
For learning geography, we have world, UK, and OS maps for primary schools and a world map with animals to make maps more exciting for early years learners.
We have a wide range of early years English learning wall art, from sand play to mud kitchen, music vocabulary and know your alphabet displays. Our creative team designs our wall art to make learning English fun for early years pupils.
We have a periodic table in our educational science wall art display range suitable to help secondary school students learn science.
Sports wall art is ideal for secondary school learners, helping them understand the human body and bringing informative learning to physical education lessons.
Our wall art display range helps to brighten up your school reception area and entrance, making sure that your school gives the right first impression to parents and pupils.
Our core values of wall art displays help you showcase what your school is about, they outline your school's ethos and vision and remind all visitors of what your school stands for.