GCSE revision walls are the finishing touch to a complete transformation of Westborough High School
The headteacher was very keen to improve the overall learning environment at Westborough. Over the years it had become tired and anything but inspirational. Our design team were shown around the school and some key areas were identified which would be significantly improved with some well thought out school wall displays.

The key was that not only should they look good but also provide a stimulating learning aid, the project was phased over 2 years and has completely transformed the sch0ol, the main phases are described below.
The Dirty thirty school wall display
We produced a school wall display for each of the departments which featured the 30 most commonly misspelt words in their subject area.
English Department GCSE papers wall displays
The head of English wanted displays in his department which would help his students revise for their GCSE's. Using the latest technology in printed wallpapers we produced full wall art displays which featured key quoted from the books Romeo and Juliette, An Inspector Calls and a Christmas Carol. In addition, we produced a school wall display which featured poets with key quotes. The final piece was a series of bookends running up the stairs again using a specialist vinyl.
External Signage
We also revamped all the external signage to bring it in line with the new school branding.
Corridor expectations and waymarking
Clear signage, area demarcation and signage explaining the corridor expectations ensured the smooth flow of students around the school.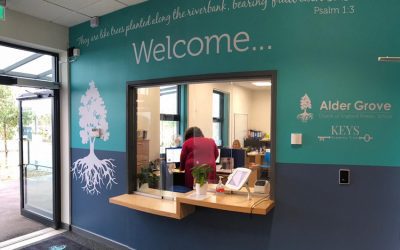 NEW RECEPTION AREA TRANSFORMED AT ALDER GROVE Alder Grove Church of England School asked us to create a new entrance area using  their branding  and displaying their logo and the Key Academy Trust logo. We covered the whole reception wall giving it a professional and...