Creating an inspiring learning environment which matched the aspirations of the school was a key objective in the rebranding programme. We designed this scheme of wall art and wall displays to achieve this goal. Focusing on the core values of the school and key curriculum areas the designs were also in keeping with the new branding.

The displays were a mixture of full wall art using the latest developments in vinyl wallpapers, flat cut lettering and large display boards. Each area of the school was covered providing a consistent message around the school.
Other projects at Stocksbridge High School:
If you would like to find out more about our wall display services take a look at our wall displays page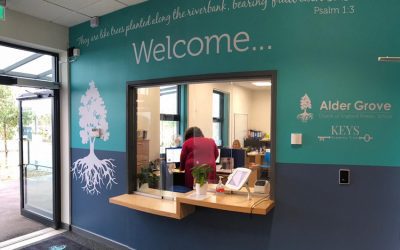 NEW RECEPTION AREA TRANSFORMED AT ALDER GROVE Alder Grove Church of England School asked us to create a new entrance area using  their branding  and displaying their logo and the Key Academy Trust logo. We covered the whole reception wall giving it a professional and...