Following an Ofsted inspection, it became apparent that Stocksbridge High schools website needed significant improvement. A secondary school website can be very complex and it is essential that the visitor experience is as good as possible.
The starting point was to commission a full Ofsted and DfE compliance audit of the existing site. Based on this report we designed a new structure for the site ensuring it included everything expected of a secondary school website. The structure of the site was also designed to make navigation easy enabling visitors to find the information they want quickly and easily.
The next stage was to design the site, we wanted to strike a balance having a strong visual impact on the home page with information easy to read and access.
The finished result was a fully responsive secondary school website viewable on all platforms. Fully compliant with Ofsted and DfE guidelines that could be updated in-house. The visitor experience has been dramatically improved allowing the scope to expand the site as the need arises. Our ongoing support and maintenance ensure security is maintained and hosting on Amazon servers provide 99.9% uptime.
Looking for more inspiration? have a look at our case studies section which features all our most recent projects. If you would like to discuss your project with us please don't hesitate to get in touch.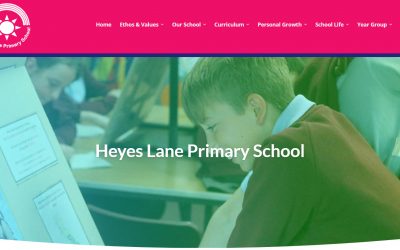 Our latest case study is Heyes Lane Primary School. This three-form entry school is located in Timperley, Greater Manchester and is relatively large, with 680 pupils, including a 52 place Nursery. Our team designed and built a new school website for Heyes Lane to develop a site that better met the requirements of their pupils, parents and staff.