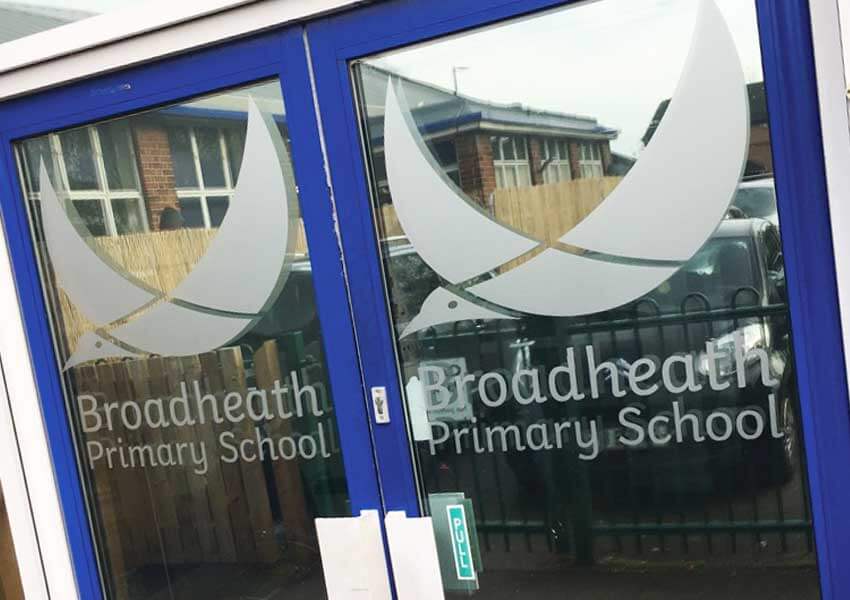 A breathtaking new school branding at Broadheath Primary
When the Broadheath's new school branding was rolled out the school suddenly had new wings and now they are soaring high with breathtaking new branding at Broadheath Primary school.
The school felt they required a new brand image that not only uniquely represented them and their values but brought the school firmly into the 21st century with a modern, forward looking identity. We began this new school branding by looking at the school's motto, 'Together we will fly'. This led to the idea of a bird soaring high that perfectly tied into the aspirational values of the school. The colours representing the school were also an important factor and all of these were reflected in the stylised bird component of the logo. The many parts of the bird make a whole and we felt that this captured the essence of Broadheath really well. Once the school's new logo had taken shape we began to develop the new brand further. We created a small brochure featuring identity guidelines to help staff use their new school branding to its maximum effect. Signage and wall displays were also important in representing the school to visitors, staff and pupils and creating an environment within the school where everyone could feel part of a community. The school's new prospectus was another example of this and we also produced a photo shoot of new images showing the children enjoying and benefiting from their learning experience at Broadheath Primary.
As technology rapidly changes important digital extensions of the school such as the school's website have to continue changing to keep pace with developing guidelines, pupil and parent requirements and technological developments. Our team of web designers and developers designed a new website for Broadheath Primary that was easy to use, informative, visually appealing and would keep pace with digital advances such those in electronic devices and social media. The new website was also compliant with the Ofsted requirements for school websites which were part of the package of web services we could offer to Broadheath.
If your school is looking to refresh your brand or create a new brand that really reflects your school community then take a look at our school branding page