At Nevill Road there is an infant and Junior school on the same site. The headteachers asked Design for Education to develop a primary school branding scheme where both schools could work under the same identity.
Primary School Branding
The new logo had to feature an icon featuring a bear as this had a historical connection to the school and local area. We developed a number of design concepts for the primary school branding and following some development work the new logo was chosen which the school were delighted with. We then created a logo suite with individual logos for each school and a range of other materials which you can see below
Just the beginning…
Other projects completed at Nevill Road Schools include a school signage scheme, stationery and photography.
If you are looking for a new brand identity or a refresh of your existing brand have a look at our school branding page.
Looking for more inspiration? have a look at our case studies section which features all our most recent projects. If you would like to discuss your project with us please don't hesitate to get in touch.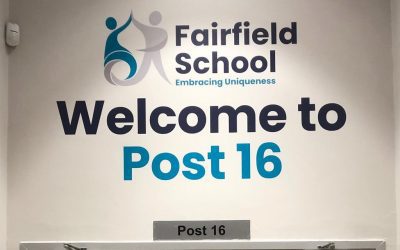 Based in Batley, West Yorkshire, Fairfield School is a special school catering to the complex needs of students aged from four to nineteen. We were approached by the school business manager Steve Walsh, as they were looking to undertake a rebranding project to reflect their new vision and values. You can see the finished results of their new school branding here.