Beech Street Primary felt the look of their reception area didn't reflect the warm, welcoming environment that greeted pupils, parents and staff upon arrival and asked us how we could bring this part of the school to life.

We created an environment for them that introduced people to the values and ethos of the school through dynamic wall displays that illustrated the school's values and aims. We also introduced visitors to the school family through a striking, branded school staff board. By using school pupils in the photography of the core values display we gave the reception area the distinctive and personal touch the school was looking for.
Pupils, parents and staff were delighted with the results of the transformation and commented that a neutral space had been turned into a friendly, vibrant and inclusive place for everyone. The pupil photography and school staff board gave a really friendly touch that many people found inviting. The school's existing branding was incorporated into the designs we created for Beech Street and this also created a strong sense of identity. An ordinary place was now a dynamic area the school could be proud of.
The school staff board introduces visitors to the school family. If you would like to find out more about our wall displays take a look at our extensive wall displays page.
Still looking for more inspiration? Then have a look at our
case studies section
 which features all of our most recent projects. If you would like to discuss your project with us please don't hesitate to contact our friendly team to discuss your requirements.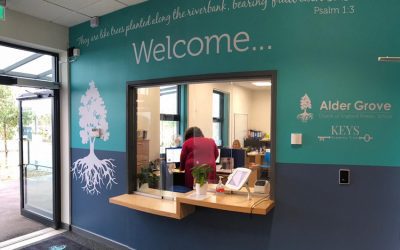 NEW RECEPTION AREA TRANSFORMED AT ALDER GROVE Alder Grove Church of England School asked us to create a new entrance area using  their branding  and displaying their logo and the Key Academy Trust logo. We covered the whole reception wall giving it a professional and...