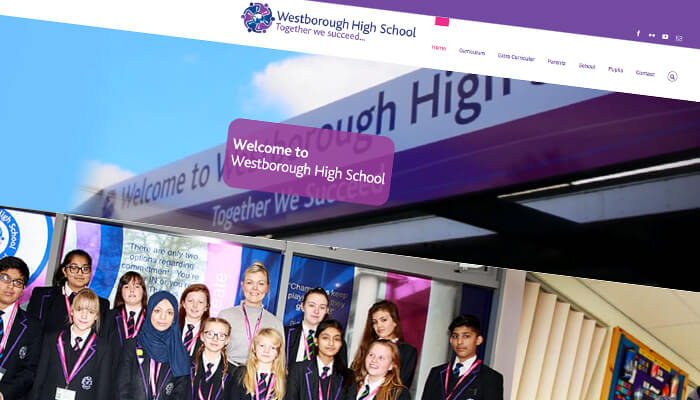 School website for Westborough High School
Creating a new School website for Westborough was the final piece in the jigsaw and completed the rebranding project.
When it came to their school website Westborough had a very specific brief. First and foremost they wanted to create a really inspiring welcome to visitors with large images giving a vibrant and aspirational first impression. They also had a lot of information that needed to be included so ease of navigation was important. They asked for was that they could keep it up to date in-house as changes are made on a regular basis. The final specification was that the site was easy to access on all devices, especially mobile phones.
Fulfilling the brief
The design of the homepage of the school website featured large scrolling 'hero' images. Not only did this give a strong visual impact but it also made it easy to navigate on mobile devices as there were no small fiddly buttons.
We used a mega menu and a site map in the footer to ensure the navigation was easy and the visitor experience was as good as it could be.
We build the site on a WordPress platform which has now become our platform of choice. It is very user-friendly and as they were experienced users it allowed them to add additional functionality. The site is fully responsive meaning it looks good across all platforms.
See for yourself at http://www.w-h-s.org.uk/
Just the beginning…
Designing, manufacturing and installing the school signs was just a small part of the project. Follow the links below to find out more about each of the projects we have completed for then:
If you would like to find out more about our school website packages take a look at our school websites page