As part of the Horbury rebranding project, we produced their school prospectus and a host of marketing and publicity materials. The school prospectus design formed the foundations for these materials.

We also commissioned our photographers to get a selection of high-quality images yo reflect life at Horbury academy. The use of uncoated paper for the brochures further enhanced the prospectus design and is something we use for all their materials.
The school prospectus design was just the beginning…
We have been involved in a number of projects at Horbury academy including:
If you would like to find out more out our school prospectus services have a look at our School prospectus page.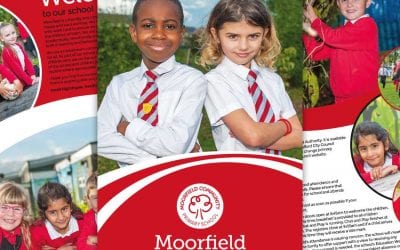 Moorfield Community Primary wanted a primary school prospectus that would fully engage with readers. From large photographs filled with the personality of the children and the school to a prospectus that embodied their branding. Moorfield Community Primary chose an...