Pipworth Primary School Wall Art
Having seen the primary school wall display at Stocksbridge Nursery Infant School. The headteacher at Pipworth Primary in Sheffield asked D4E to pop in to see if we could do something similar.

The school was undergoing extensive refurbishments and this provided the perfect opportunity for our design team to work their magic with a primary school wall display. The main core values display in the reception area (pictured below) was the centrepiece and featured a star theme to reflect the school's branding.
The star theme was then continued into the main corridor where a series of large stars with text written by the children explained their interpretation of each of the core values. These were complimented by individual picture discs showing children demonstrating the school's values.
Please can I take this opportunity to thank you all for your help and assistance in delivering the beautiful wall displays around school.
Tracey bates – Finance Manager, Leasowes Primary School
The final element was the vine of values display which was a first for us. The concept was that the children wrote down a value that was important to them on a leaf and added it to the vine of values tree. The problem was that they were being stuck up with blue tack and every time someone walked past them they were falling off the wall. We produced a display which had the vine of values as the backdrop, on the face of the display were a series of clear plastic pockets to hold the children's work. All the children's values can now be proudly displayed and the staff aren't constantly picking them up off the floor.
If you would like to find out more about our wall displays take a look at our wall displays page.
Looking for more inspiration? have a look at our case studies section which features all our most recent projects. If you would like to discuss your project with us please don't hesitate to call our sales team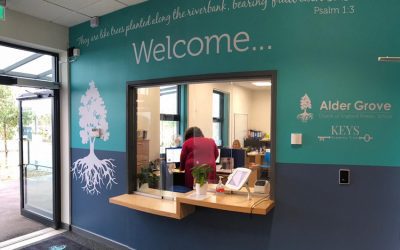 NEW RECEPTION AREA TRANSFORMED AT ALDER GROVE Alder Grove Church of England School asked us to create a new entrance area using  their branding  and displaying their logo and the Key Academy Trust logo. We covered the whole reception wall giving it a professional and...