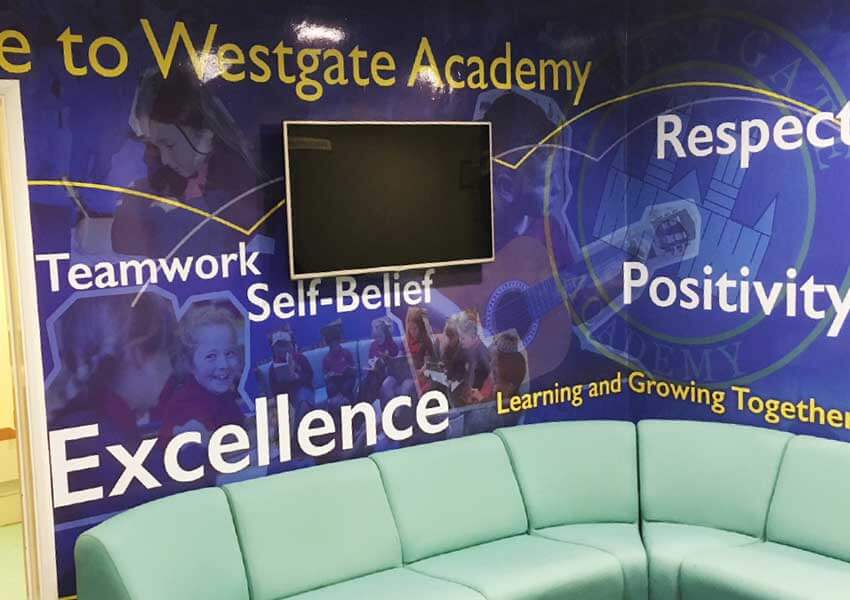 Wonderful new wall displays are wowing at Westgate
Our wonderful new wall displays are wowing at Westgate Academy and creating a striking impression for visitors and the school community.
Westgate Academy wanted to enhance some of their learning and visitor spaces with some vibrant, dynamic and branded wall displays. They also wanted to reflect some of their ethos and values alongside images of the children enjoying their time at the school. The reception area was instantly lifted and transformed with a display that made visitors feel welcome to the school in a revitalised space that was unmistakably Westgate Academy. With one glance visitors, staff and pupils could see what life at Westgate was like and how Westgate Academy reflected its values.
Our wall displays are wowing in the sports hall too and we covered this large area with another dynamic themed display. The school wanted to convey the fun, excitement and positive benefits of exercise for the children. We used images featuring sporting heroes from the local area to inspire the children as well as fun and active images to enthuse the pupils participating in sport and play. Bland walls had now been fully transformed into areas that would inspire and enthuse staff and pupils alike in a positive learning environment. Using the Westgate brand we had developed in several projects such as their new logo, year books and prospectus we created a space that was really personal to Westgate Academy.
If you would like to find out more about our wall displays take a look at our extensive wall displays page.
Still looking for more inspiration? Then have a look at our case studies section which features all of our most recent projects. If you would like to discuss your project with us please don't hesitate to contact our friendly team to discuss your requirements.