Sit down with a good book and enjoy Rothwell Haigh Road Infant's library wall art. Plain walls have been transformed and now the library is a place to inspire reading and learning.
Our wall art created an environment for Rothwell Haigh Road Infant's that promoted an enjoyment and love of reading.
Pupils, parents and staff were delighted with the results of the transformation and commented that a neutral space had been turned into a friendly, vibrant and inclusive place for everyone. The use of well known and familiar books gave a really friendly touch that many people found inviting. An ordinary space was now a dynamic area that the school could be proud of.
If you would like to find out more about our wall displays take a look at our extensive wall displays page.
Still looking for more inspiration? Then have a look at our case studies section which features all of our most recent projects. If you would like to discuss your project with us please don't hesitate to contact our friendly team to discuss your requirements.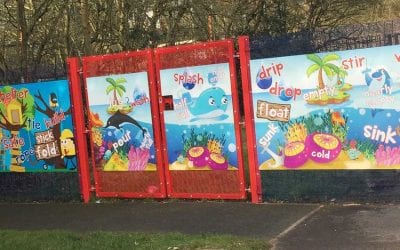 Safeguarding Panels at St Matthew's CE Primary SchoolWe created Safeguarding Panels at St Matthew's CE Primary School that screened childrens play areas as well as providing outdoor learning provision. Safeguarding Panels are an effective way to screen all the outdoor...
WE WOULD LOVE TO HEAR FROM YOU

IF YOU WOULD LIKE A QUICK CHAT CALL

0114 379 2014
We are leading UK design and manufacturing experts in the educational sector providing a fantastic wide range of products. From websites to wall displays, branding to photography we have everything you need. Our expert creative team will bring your ideas to life and our sales team will provide technical advice. We are friendly and approachable and love the relationships we have with our clients.