Showing the way with Leicestershire school wall art
Promoting strong ethos with a striking display
Ivanhoe College have a strong school ethos which is a major part of their identity. As we have produced several Leicestershire school wall art displays, Ivanhoe College came to us to enhance their school environment.

Ivanhoe wanted the strength of their core message to be visible across the school in several different types of location. The striking wall displays we designed and produced around the school promoted the values of the Ivanhoe Way. They also created a sense of shared community and responsibility. Using a range of materials and placed in a variety of locations such as canteens and corridors, our displays are designed and manufactured to be safe and durable. Ivanhoe used a mixture of single piece wall displays mounted on locators as well as cut lettering to great effect.
The wall displays were designed and manufactured to meet Ivanhoe College's tight deadline for installation during the school holidays. Confident we could accommodate Ivanhoe's timetable the final result was installed on time to great effect within the school.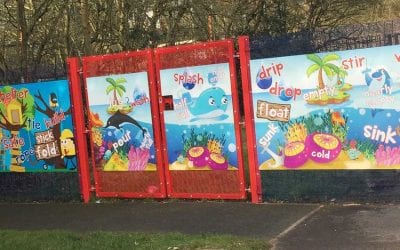 Safeguarding Panels at St Matthew's CE Primary SchoolWe created Safeguarding Panels at St Matthew's CE Primary School that screened childrens play areas as well as providing outdoor learning provision. Safeguarding Panels are an effective way to screen all the outdoor...