St Jude's Catholic Primary approached us to help them create some sensational new branding for their school. We began by using one of our lesson plans which the teachers at St Jude's applied to guide their pupils through the process of creating a logo. We would then take the best of the school children's ideas as the basis for a new logo and then roll that out into the sensational new branding that St Jude's were eagerly awaiting.

The lesson plan was a great success and the school was really pleased with the results the children had created. We took the chosen idea and developed it further and created a great new logo for the school. By using our lesson plan St Jude's not only had a new, modern logo that really reflected who they were but they also had a logo that was quite personal to them. With the logo in place we then began creating banners and leaflets for the school to use to advertise their successes and inform prospective parents/carers about facilities they could offer such as St Jude's pre-school. We also began work on some new signage for the school. Window graphics that were translucent shapes of children playing and enjoying being active were designed to go in the large classroom windows near the school entrance. This helped to visually bridge the outside and the inside of the school bringing them together as one environment. Using cut lettering we placed the words 'welcome to' near the main entrance of the school and beneath that a large outside wall display which was the school's new logo. The use of the logo on such a scale was great, it created an immediate impact and told a story about the school in one simple visual outside wall display.
St Jude's now have an identity and an environment that speaks to visitors and the school family about St Jude's and its place in the local community.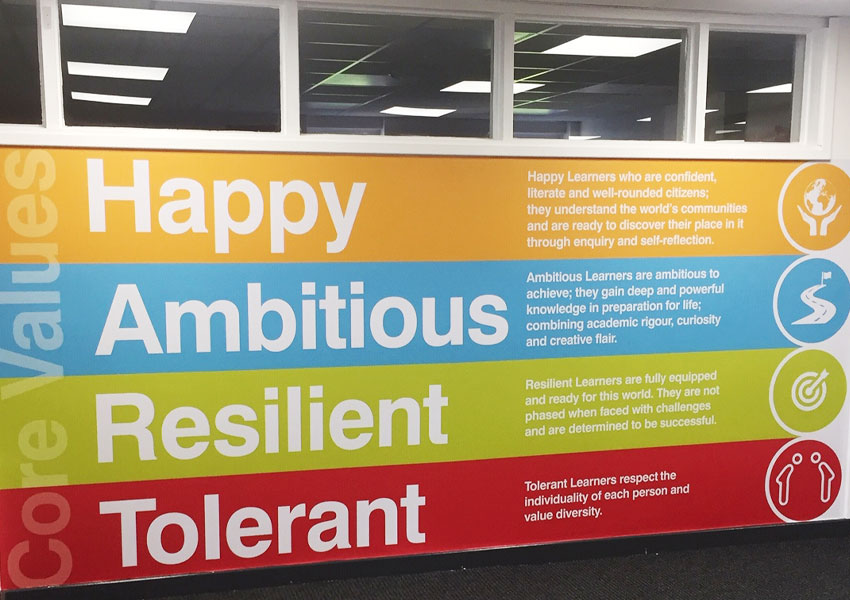 New curriculum wall art gives a great feeling at Hart Academy as pupils experience a whole new environment. Our wall art and directional signage has created a new learning experience for the school. From atoms to anatomy, mountains to momentus historical events, with...