Are you wanting a history timeline and you you are working to a limited budget? Then our self installed off the shelf history timeline might be for you!
Hilton Primary School wanted a bespoke wall display that would span the history of the world as well as including some historical facts about their own local area. From the beginnings of the solar system and the world to the present day we explored key events in the world's history in a fun, exciting and educational way. This wall display not only provides factual and interesting information for the children but also prompts them to ask questions and further widen their understanding of history and the world. Facts from the timeline around the school inspired the children to learn more about history.
Hilton Primary School even left us a lovely testimonial "The timelines are up on the walls, they look amazing and we couldn't be happier. The children are really interested as are the staff!  Thanks for all your hard work on this".
Visual aids can improve learning by up to 400%. So this timeline is sure to help pupils remember key historical facts, the beauty of these timelines is the pupils are learning without even realising it.
Our off the shelf history timelines can be tailored to your school in terms of colours and changing the local history to meet your needs.  The timelines are available off the shelf or bespoke to the school's requirements. They are 3 sizes for this timeline, the timeline is supplied to you on boards for your maintenance team to install, sizes available:
5m x 1.2m
9m x 1.2m
15m x 1.2m
Still looking for more inspiration? Then have a look at some more of our case studies which feature all of our most recent projects. If you would like to discuss your project with us please don't hesitate to contact our friendly team to discuss your requirements.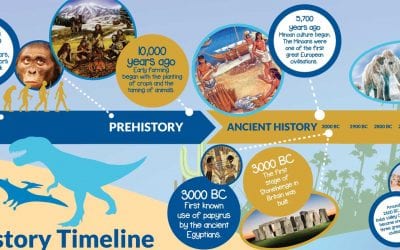 15m World History Timeline is an excellence visual learning aid which we recently completed for Woodlands Primary School in Kent.  This 15m world history timeline which span from: Pre-History Ancient History Middle Ages Modern History Contemporary It even had a...