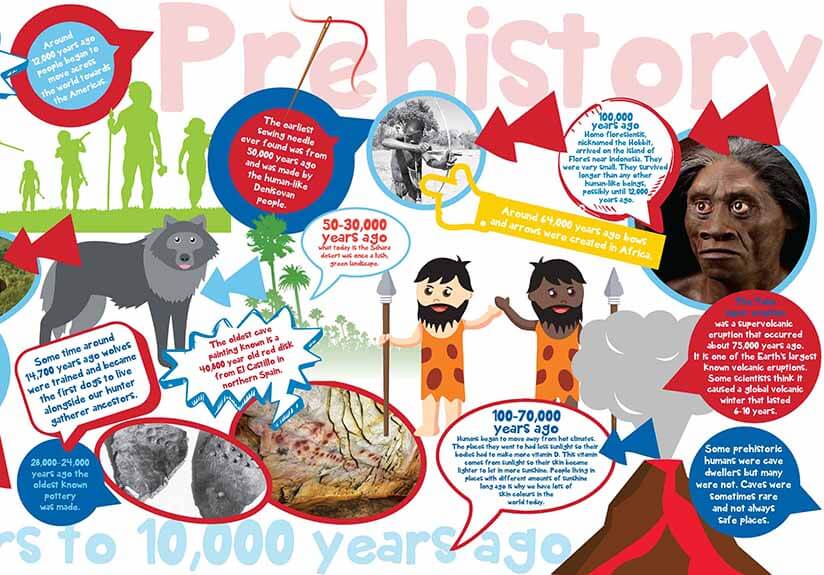 Journey through history with our new timeline wall displays
As your pupils walk through school why not combine activity with education and take them on a journey through history with our new timeline wall displays.
Stocksbridge Nursery and Infant school wanted a wall display that would span the school and the history of the world as well as including some historical facts about their own local area. From the beginnings of the solar system and the world to the present day we explored key events in the world's history in a fun, exciting and educational way. This wall display not only provides factual and interesting information for the children but also prompts them to ask questions and further widen their understanding of history and the world. Facts from the timeline around the school got the children wondering:
'What was life like for the dinosaurs after the asteroid hit the Earth?'
'If most cavemen didn't really live in caves where did they?'
'Why did the Normans want to invade England in 1066 and fight the Battle of Hastings?'
The walls around the school had now become a learning environment, enriching the educational experience of Stocksbridge's pupils.
The individual topics covered were tailored to the requirements of the school as were the ages in world history and the level of the information provided. The visual elements used in the wall displays are fun and exciting with a mixture of illustrative and photographic imagery to stimulate the childrens imaginations while creating a level of historical realism. Stocksbridge Nursery and Infant school chose to begin their learning journey with the birth of the sun and the Earth and end it with the climatic changes taking place in the present. The displays were spread across individual walls throughout the school from one side of the building to the other and linked by arrows. The school had become a lively, learning tool the children could delve into every day.
If you would like to find out more about our timelines and wall displays take a look at our extensive wall displays page.
Still looking for more inspiration? Then have a look at our case studies section which features all of our most recent projects. If you would like to discuss your project with us please don't hesitate to contact our friendly team to discuss your requirements.