Multi Academy Trust Wall Displays at Holgate Academy transform reception area.
We have created a new and inspiring learning environment at Holgate academy creating an impressive new reception area for the school. The bespoke directional signage means it has never been easier to find your way around the school. This coupled with individual house displays and a superb 3D display promoting the school's core values has completely transformed the welcome visitors receive.
All looks fantastic! Thanks to you and the team for a great job.
Corridors, reception areas and staircases all became exciting and interesting learning spaces. We create our designs based on your school's needs. Holgate's new wall displays fused classrooms and the rest of the school together. Wall displays don't have to be limited to the interior of your school though. Many schools have taken the educational benefits of wall displays outside. Boring bricks are now spaces for new learning opportunities. There is no limit to what can be accomplished through our designs. The benefit these reinvigorated spaces can bring to your teaching environment and students will last for years to come.
If you would like to find out more about our wall displays take a look at our extensive wall displays page.
Still looking for more inspiration? Then have a look at our case studies section which features all of our most recent projects. If you would like to discuss your project with us please don't hesitate to contact our friendly team to discuss your requirements.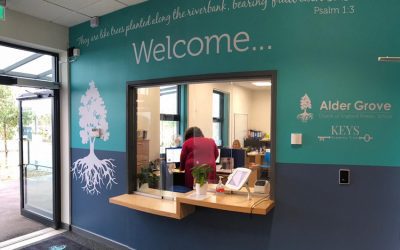 NEW RECEPTION AREA TRANSFORMED AT ALDER GROVE Alder Grove Church of England School asked us to create a new entrance area using  their branding  and displaying their logo and the Key Academy Trust logo. We covered the whole reception wall giving it a professional and...