Enhanced learning spaces that excite and engage pupils imaginations
Marston Green Academy wanted us to create classroom wall displays that would enhance their learning spaces and excite their pupils imaginations.
When the children at Marston Green approach a classroom they now see stimulating learning spaces instead of plain doors, windows and walls. Their enthusiasm for the upcoming lesson or activity is intensified and they gain from that stimulation by experiencing a much more rewarding learning experience. Transforming doors, walls and windows with exciting and educational graphics is a great way to create a sense of energy, fun and your pupils are learning at the same time. As well as inspiring the children before entering learning spaces, we designed window graphics for classrooms that identified the many parts of the human body, featured number tables, shapes and the seasons of the year. All of these were illustrated in a fun, dynamic and energetic way so that the final result was interesting and educational for the children.
If you would like to find out more about our timelines and wall displays take a look at our extensive wall displays page.
Still looking for more inspiration? Then have a look at our
case studies section
 which features all of our most recent projects. If you would like to discuss your project with us please don't hesitate to
contact
our friendly team
to discuss your requirements.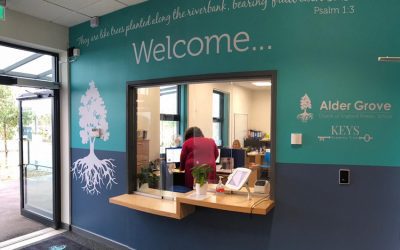 NEW RECEPTION AREA TRANSFORMED AT ALDER GROVE Alder Grove Church of England School asked us to create a new entrance area using  their branding  and displaying their logo and the Key Academy Trust logo. We covered the whole reception wall giving it a professional and...