Inspiring wall displays for Birmingham school
Woodrush High greeted pupils on their first day after the holidays. The School has been revitalised and spaces transformed into dynamic areas.
Woodrush wanted to create a sense of identity for pupils, visitors and staff within the school. We also created spaces that reflected their passion for learning. We turned flat, dull walls in the science area of the school into a space that is stimulating and enthuses pupils. Subject-specific wall displays are a fantastic way of bringing the inside of the classroom out into the rest of the school. It gives a strong sense of being in an energetic learning environment.
At just a glance, the reception area became a modern and welcoming place that instantly greeted visitors. The awards wall was a great way to showcase the successes of the school.
We also installed notice boards to get everyone's attention. The house boards reflected each houses identity as well as keeping pupils up to date with the latest news. There are no limits to what can be accomplished through transforming your school spaces with our designs. The benefits these energised school spaces can bring to your learning environments and your school family will continue for years to come.
Inspiring wall displays for Birmingham school. We transformed the reception area to give visitors a real welcome at Woodrush High School.
If you would like to find out more about our wall displays take a look at our extensive wall displays page.
Still looking for more inspiration? Then have a look at our
case studies section
 which features all of our most recent projects. If you would like to discuss your project with us please don't hesitate to contact our friendly team to discuss your requirements.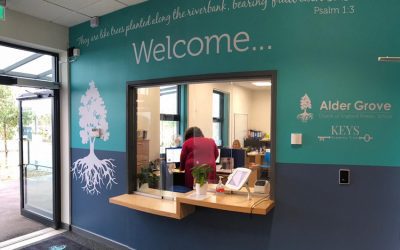 NEW RECEPTION AREA TRANSFORMED AT ALDER GROVE Alder Grove Church of England School asked us to create a new entrance area using  their branding  and displaying their logo and the Key Academy Trust logo. We covered the whole reception wall giving it a professional and...