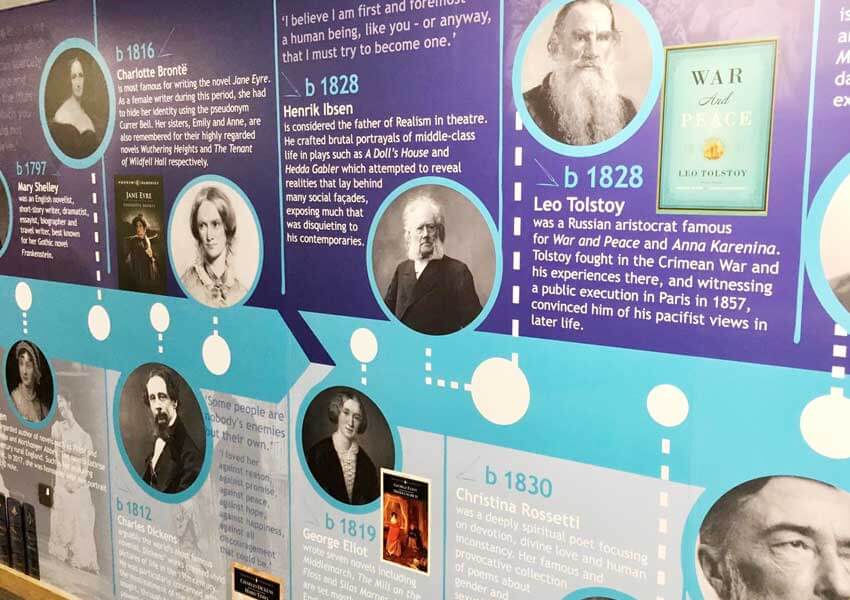 Exceptional East Sussex wall displays
Our exceptional East Sussex wall displays have transformed plain walls based around Eastbourne College's school curriculum. What were dull walls are now exciting and dynamic learning spaces.
Eastbourne College has been enjoying its 150th-year celebrations. To celebrate they approached us to personalise and enhance various key locations throughout their school. With our English literature themed display an ordinary corridor became a vibrant and energetic space. Curriculum focused wall displays are designed to reflect your school's identity. Our designs always breathe new life into a drab space and the content is educational and relevant to your theme.
Corridors, meeting areas, libraries and dining spaces can all become engaging and interesting learning spaces. Our designs fuse classrooms and the rest of the school together. Wall displays don't have to be limited to the interior of your school though. Many schools have taken the educational benefits of wall displays outside. Boring bricks are now spaces for new learning opportunities. There is no limit to what can be accomplished through our designs. The benefit that these reinvigorated spaces can bring to your teaching environment and students will last for years to come.
If you would like to find out more about our wall displays take a look at our extensive wall displays page.
Still looking for more inspiration? Then have a look at our case studies section which features all of our most recent projects. If you would like to discuss your project with us please don't hesitate to contact our friendly team to discuss your requirements.