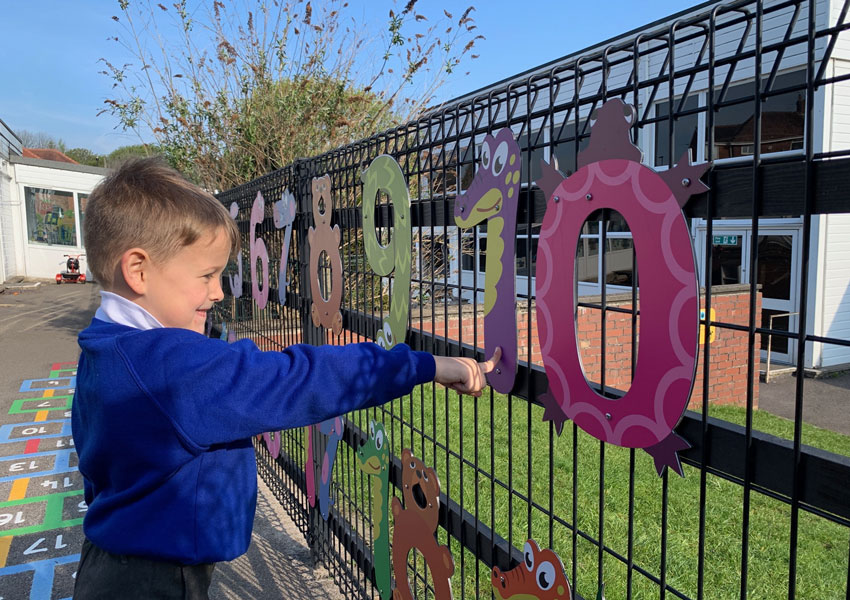 Enhanced outdoor learning provision
Creating an enhanced outdoor learning provision was highlighted in Royd Nursery Infants 2016 Ofsted inspection. Our design team have worked closely with the FS1 and FS2 leaders to develop a range of signage and graphics to provide a stimulating learning environment for the children.
The displays focused on literacy and numeracy within the curriculum. These included the alphabet in capitals and cursive text, a graphical number line using animals, vocabulary used in the mud kitchen, crates and planks, music and water play areas in both the FS1 and FS2 outdoor areas. In the sand and waters areas, we also included measuring with water jugs and buckets.
Well received by staff, pupils and visitors alike
The staff and children love their new enhanced outdoor learning provision and the children started using the resources straight away. The new signage combined with a new floor surface has transformed the outdoor spaces into a dynamic outdoor learning environment for the children. The early year's team can't wait for their next Ofsted inspection so they can show out the outdoor learning provision has been brought up to the same very high standards that they identified inside the classroom.
This has had a significant impact on children in Key Stage 1 both academically and with their physical health. Design for Education have been a superb company to work alongside. They have listened to our ideas, met the needs of our school and I would highly recommend them." Sean Sly, Deputy Headteacher
The enhanced outdoor learning provision hasn't gone unnoticed by visitors to the School. Following a recent visit by Rachel Mowat from Sheffield Links School Partnership she commented 'I was at the school today and was so impressed with the quality and design of the signs' as a result, we have been invited to their annual conference to showcase our work to other schools in the area.
Area demarcation
Another significant improvement we made was to have bight and clear area demarcation so the children understood where each of the activities was. This helped with the flow of children helping them to independently fone the area they wanted to play in.
If your school would benefit from an enhanced outdoor learning provision please contact a member of our team, we can tailor packages to suit most budgets and can create unique solutions for your school.
For further details and pricing download our brochure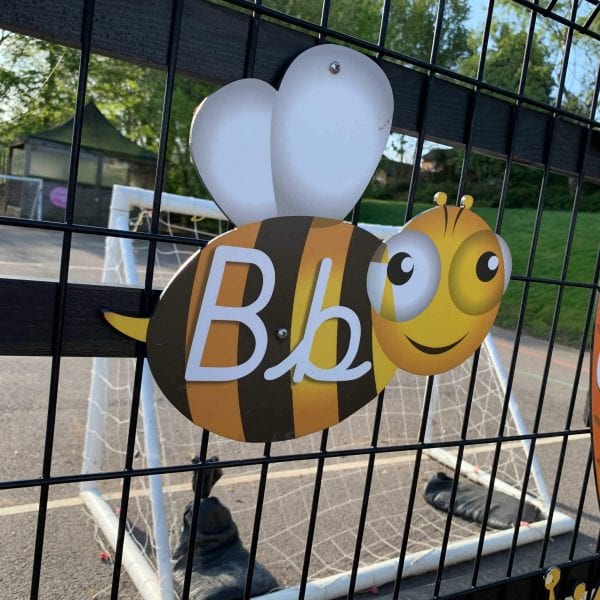 If your looking to improve your outdoor learning provision please contact a member of our team to discuss your project. We can tailor packages to suit any budget, to give you an idea of cost please download the brochure. If you are looking for more information you can also see other case studies here.