Is your school using every inch of space it has available to create an immersive learning environment? Look at your pupils' outdoor space. We know that learning doesn't just happen in the classroom. Elements of the curriculum can be implemented even in the playground – and Ofsted will be looking for this in your next inspection.
Your outdoor area is a blank canvas of learning opportunity. Subconscious learning – most crucially in Early Years – can be a game-changing dynamic in your school setting. Your grey and mundane playground can be transformed into an educational, bright, stimulating, and safer hub of activity with the use of graphics and displays.
We're here to help you breathe new life and inspiration into every corner of your school.
The impact of visual learning prompts
Graphics and displays aid learning, from many aspects. Studies show that images are the simplest yet most effective way to store information for the long term. Of all the information transmitted to the brain, 90% is visual. Visuals are also processed 60,000 times faster than text.
When your pupils emerge from their classrooms, the learning can continue through carefully designed visual tools that help them store information.
Other benefits of graphics and displays include:
Emotion stimulators
Motivational drivers
The right design for your outdoor areas can positively affect not only learning absorption, but also how your pupils feel. A dull and lifeless concrete outdoor area can become an energetic, invigorating, supportive bubble of subconscious learning.
Case study – See for yourself
Look at the work we did at Royd Nursery Infants School, which was highlighted in their 2016 Ofsted inspection. For this project, we worked closely with FS1 and FS2 leaders to create a display focused on the curriculum's literacy and numeracy. We implemented:
The alphabet in both capitals and cursive text
An animal-themed graphical number line
Vocabulary placed in named areas and objects in a mud kitchen, and water, music, and sand play areas

Measuring with jugs and buckets

Area demarcation
Fitness circuit with 14 exercise stations for independent or P.E. use
All the changes implemented in this school's outdoor space give the children freedom to explore, learn, identify, and make independent choices and actions.
Deputy Headteacher Sean Sly had this to say about the transformation of their outdoor learning space into an immersive learning environment:
"This has had a significant impact on children in Key Stage 1 both academically and with their physical health. Design for Education have been a superb company to work alongside. They have listened to our ideas, met the needs of our school, and I would highly recommend them."
You can discover more and view a few images of our work here in our Royd Nursery Infants Case Study.
Creating a safe outdoor immersive learning environment
Screening your outdoor areas from the public is a safeguarding measure that helps to maximise protection of your pupils. All pupils should access education within a stimulating learning environment that is most crucially secure, and our safeguarding panels do just that.
For example, at St Matthew's CE Primary School, we provided bespoke safeguarding panels that transformed their outdoor space into a bright, colourful area.
The panels create protection from passers-by and from the elements, too:
They ensure your pupils are protected from strong winds, have increased shelter, and being weatherproof and wipeable, the panels can be cleaned easily
For enhanced security, the panels are fitted from the back, with tamper-proof locking nuts and a bonded plate to ensure they stay firmly in place
Open your school's learning opportunities in every corner
Every area within your school premises is an opportunity for your pupils to learn. With a defined focus on what you want to achieve from your designs aligned with your key stage and curriculum, your outdoor space can be reimagined and spark learning abilities as well as happiness.
Visitors, educational partners, and stakeholders will be equally impressed. Following a recent visit to Royd Nursery, Rachel Mowat from Sheffield Links School Partnership said, "I was at the school today and so impressed with the quality and design of the signs."
We have since been invited to their annual conference so that other schools can learn more about the innovative measures that they can implement to create a deeper and more meaningful immersive learning experience in their outdoor spaces.
It's time you ventured outside and assessed the power of your outdoor school space. Does it brighten? Does it protect? Does it inspire?
Contact Design for Education today – we'll show you the possibilities.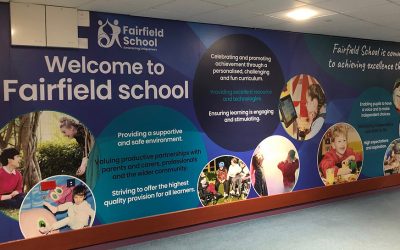 School murals can be an exciting and inspirational way to engage pupils with history, a subject which requires children to commit so many facts to memory. In fact, clever use of history timelines and wall art can make the subject come alive and help pupils to memorize...