Cheshire College rolls out the curriculum across its walls with our college wall art. Inspiring maths, english and computing displays have expanded learning beyond the classroom and into the college.
The maths, english and computing walls have vividly brought information to life to create exciting and interesting spaces. Cheshire College wanted to welcome its students into each department with inspirational and informative wall art to reflect their passion for teaching and learning. The subject walls featured facts and information about important scientists, mathematicians, writers as well as their discoveries and creations. We produce our designs based around your specific requirements.
Making learning inspiring
Cheshire College's new wall art opened up classrooms and corridors. Wall displays don't have to be limited to the interior of your school though. Many colleges and schools have taken the educational benefits of wall displays outside. Boring bricks and forgotten fences can become spaces for new learning opportunities.
Transformation through wall art
There is no limit to what can be accomplished through our designs. The benefits that these unique spaces can bring to your teaching environment and students will last for years to come. Our school wall displays will completely transform any space. We also produce interesting and educational graphics for window areas. These displays can bring your classroom subjects to life and inspire your school community.
If you would like to find out more about our wall displays and signage take a look at our extensive wall art page and signage page ranges.
Still looking for more inspiration? Then have a look at some more of our case studies which feature all of our most recent projects. If you would like to discuss your project with us please don't hesitate to contact our friendly team to discuss your requirements.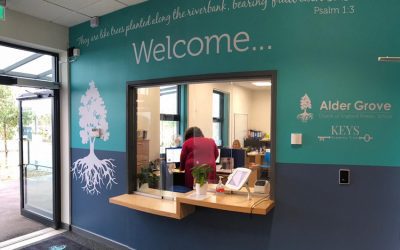 NEW RECEPTION AREA TRANSFORMED AT ALDER GROVE Alder Grove Church of England School asked us to create a new entrance area using  their branding  and displaying their logo and the Key Academy Trust logo. We covered the whole reception wall giving it a professional and...