Medway UTC is a school specialising in engineering, construction management and design for fourteen to nineteen year olds.
The school has a modern environment but the staff felt it could be enhanced with some specialist wall displays. The displays needed to improve the learning aspect of the interior spaces so that the outside of the classrooms complimented and enriched the existing spaces within.

There were various areas the school wanted to use in building a better learning environment at Medway UTC and we helped them explore these in a stimulating way. Using the school's branding we created large cut lettering which featured inspiring quotes that wrapped around various levels of the school's central spaces. We also designed graphics for the stairs that linked various departments together. These also featured inspiring quotes that would educate, inform and motivate the students every day.
Through our new specialist wall displays Medway was building the better learning environment they had been hoping for. The areas beyond the classroom had become learning spaces themselves and enhanced the students' educational experience. The specialist wall displays fused the hallways, corridors and classrooms together in a creative, energetic, interesting and positive way.
Still looking for more inspiration? Then have a look at our case studies section which features all of our most recent projects. If you would like to discuss your project with us please don't hesitate to contact our friendly team to discuss your requirements.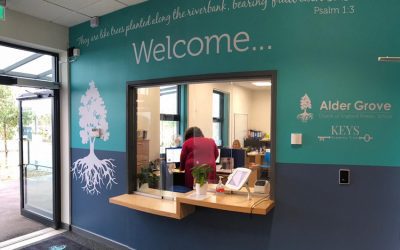 NEW RECEPTION AREA TRANSFORMED AT ALDER GROVE Alder Grove Church of England School asked us to create a new entrance area using  their branding  and displaying their logo and the Key Academy Trust logo. We covered the whole reception wall giving it a professional and...