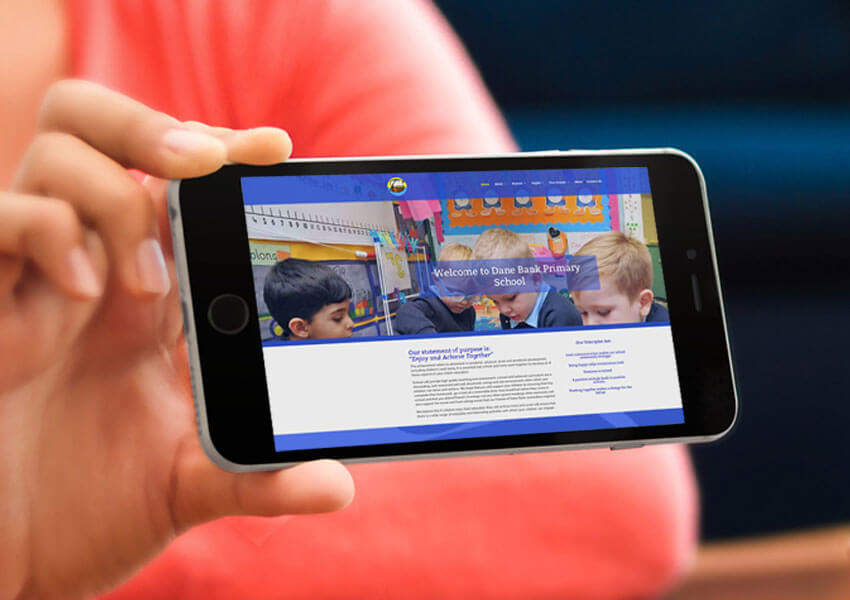 Dane Bank delivers an Ofsted and DfE compliant website
We began by analysing Dane Bank Primary School's website, assessing it against the criteria set out by Ofsted and the DfE so that it was Ofsted and DfE compliant website.
We then provided them with a full report which included essential recommendations to bring them up to the minimum standards required as well as non-essential recommendations which highlighted how the site could be improved to exceed those minimum requirements. The report we provided helped us to then develop a site plan for Dane Bank's new website. Once the new website was finished we then completed a full SPAG review to ensure the website was ready to go live.
With technology changing at the rate it does you can't just build a website and forget about it for a couple of years it has to be constantly evolving with the school, our offering is designed to ensure this happens and includes:
A fully responsive website that can be viewed on any platform, mobile tablet or desktop
Easily updatable by your staff using WordPress CMS
Links to social media
Includes an Ofsted and DfE Audit to ensure an Ofsted and DfE compliant website
All our packages include 2 hours of development time a month to ensure it is kept up to date. We regularly review the website with you to make sure it's working exactly how you want it to, we can then update it, add functionality and new sections on an ongoing basis at no extra cost. So for example, if you wanted a secure area creating for staff or parents, this would be done within your annual fee. We've set it up this way so you know exactly what the annual cost will be with no hidden surprises.
You can now update your website and School App all in one place! We make School Apps simple and easy to use.
We know time is precious and the thought of yet another platform to keep updated will fill you with dread. With our unique system, there's no need to worry about any extra workload. Our apps pull in content directly from your website, so if you add an event, newsletter or announcement to your website the app will automatically be updated.
With smartphone ownership now over 95%, customised communication apps are the most direct and effective way to communicate and engage with your school community. A school app will connect you, parents and students. You need to keep a wide network of people up to date with what's happening in your school and a Design for Education School App is the perfect solution.
You may be thinking my website is mobile friendly so why do I need an app?
Everything in one place
School apps provide an instantly accessible information hub. Whether users need to check the time of the event, the detail in an alert you sent, the latest news, it's all accessible in one place. No more hunting for information through email inboxes, texts or website menus.
Push notification messages
The most direct way to contact people. Whenever you update an event or news item, send out a permission form or issue a one-line reminder, you can add an alert to the app with a push notification to all users, selected groups or individuals.
Improve engagement
Quickly send out dynamic content such as photos, video or feedback surveys along with fast reply options to maximise response rates. Your users can filter content on the app so
it's always relevant to them. The result is a focused stream of rich information and happier users.
Forward-thinking
People want a smart, branded system which is quick, simple to use and makes their lives easier. Having a system which syncs directly with your website will save you time
and money and keep your school community happy and engaged.
If you would like full details of our website packages and school apps including pricing or to arrange an online demo contact one of our school website specialists.