After developing and rolling out the brilliant branding for the school we then created a new branded responsive website for Broadheath Primary.
Our starting point for the website's new look was the recently designed logo and prospectus and from there we produced a fresh, modern and easy to navigate site with great content. The purpose of creating a new site was to create a portal for the school that was suitable for current mobile and electronic devices from which websites are often accessed. The school also wanted a site that was easy for people to use with clear content and features such as school calendars and parent/carer zones. In addition to the site being functional it also had to create the wow factor and a lasting first impression with a unique visitor experience. This is where our creative team came into their own and we adopted all the latest technology to create a memorable website for Broadheath. This included the use of the latest responsive website design principles that ensured their website looked great across all platforms.
The visitor experience that is offered by you to visitors is key to your websites success. With over 50% of internet traffic coming via mobile phones its important that your site should offer the best possible visitor experience no matter what device is being used. At D4E our websites have embraced the latest responsive website design which provide the optimal user experience across the largest number of devices. When we design websites we adopt a 'mobile first' philosophy. This ensures you site works and looks great on mobiles, we then evolve the design for larger devices. This was the process Broadheath underwent and the final result meant that as technology rapidly changes important digital extensions of the school such as the school's website will continue changing to keep pace with new guidelines, pupil and parent requirements and technological developments. Our team of web designers and developers designed a new website for Broadheath Primary that was easy to use, informative, visually appealing and would keep pace with digital advances such those in electronic devices and social media. The new website was also compliant with the Ofsted requirements for school websites which are part of the package of web services we could offer to Broadheath.
After the site was fully built we then came into the school to train the staff to use the updated system which is included in our Enhance Primary Website Package. Your website should be constantly evolving and become an integral part of your school community. Creating a beautiful new website is just the start of the process. We aim to become your long term digital partner so if you need support using our CMS or you want to add new pieces of functionality we'll be there for you every step of the way.
All our packages include 2 hours of development time a month to ensure it is kept up to date. We regularly review the website with you to make sure its working exactly how you want it to, we can then update it, add functionality and new sections on an ongoing basis at no extra cost. So for example if you wanted a secure area creating for staff or parents, this would be done within you annual fee. We've set it up this way so you know exactly what the annual cost will be with no hidden surprises.
If you would like full details of our website packages including pricing or to arrange an online demo contact one of our school website specialists.
Looking for more inspiration? have a look at our case studies section which features all our most recent projects. If you would like to discuss your project with us please don't hesitate to get in touch.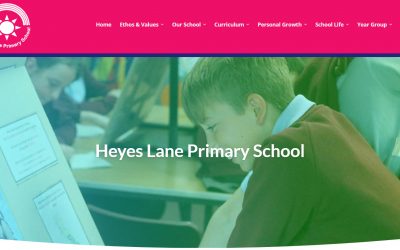 Our latest case study is Heyes Lane Primary School. This three-form entry school is located in Timperley, Greater Manchester and is relatively large, with 680 pupils, including a 52 place Nursery. Our team designed and built a new school website for Heyes Lane to develop a site that better met the requirements of their pupils, parents and staff.