Is your school website compliant?
It's a question that all maintained schools must address, and completing a website content checklist isn't enough. When Ofsted inspects, it wants to see that you have done more than complete a tick-boxing exercise.
Thankfully, in normal circumstances Ofsted's school website standards don't change every day – and updates are usually released at the beginning of September ahead of the new school year. But current times are not normal circumstances.
A major change to the standards was released in November 2020. In the melee of coronavirus lockdowns, school closures, and homeschooling, you may have missed these new requirements. Talking about homeschooling, Ofsted also kindly released another new website requirement from January 2021 – Remote Education Information.
How do you maintain your website so that it is not only in compliance with school website standards, but accelerates past them?
Here we share our top website strategy tips.
#1: Audit your school website
Is your website Ofsted compliant? Before you make any changes to your school website, you should assess it for compliance.
Does it include all the statutory information that it must?
A good website audit should also look at accessibility, user friendliness, and the depth and breadth of your content.
A good website audit will help you develop a plan to build better, deeper, more meaningful website engagement.
#2: Don't just tick compliance boxes
When Ofsted inspects, it expects to see that all the statutory information is present on your website. If it isn't, you will, of course, receive a big negative mark against your inspection outcome.
However, Ofsted inspectors also want to see that you provide evidence of how you are implementing policies, standards, and curriculums. Therefore, you should consider ways that you can demonstrate that you are doing what you should be – across all activities.
(All the information that maintained schools must publish online can be found on the gov.uk website here.)
#3: Make your school's website easy to navigate
The content on your website should be easy to find – especially the statutory information. To achieve this, a great website designer will ensure that:
Your website is structured to be user friendly
Your policies and other key information are easy to find
The style and content reflect your school branding
To test if your website is user friendly, why not ask your parents for their thoughts?
Here are a couple of school websites that will help you visualise how your website could look and work:
#4: Make your website accessible
One of the problems we find when we audit websites is that many are not easily viewable on all devices. Big mistake! It has been estimated that almost three quarters of all internet users will be browsing on their smartphones by 2025.
When we build your website, we make sure that it is responsive and easily viewed on all devices, including:
desktops
laptops
tablets
smartphones
(Oh, our website functionality also brings together your web and social media presence, helping you to reach out seamlessly to all your parents, students, and other stakeholders.)
#5: Share your school's achievements
Don't allow your website to become bland. It should engage your students and parents by sharing your school's achievements. Let your pupils revel in the recognition your website provides them. Prompt your parents to promote your school and the activities that children can take part in.
Ease of use of websites should extend to uploading new and current information to your site. When it's easy to use, it's easy to maintain. Which is why we build sites in which your school's apps and website are in one easy-to-update space.
#6: Keep your website updated
Ofsted inspectors don't need to come into your school to get a flavour of how your school is run. They only need to look at your website – and this can be done from anywhere at any time.
Therefore, it is crucial that you ensure your website is updated regularly, and that it remains Ofsted compliant. We help our schools develop processes that keep Ofsted updates flowing. Our customer service team will support you all the way, ensuring that your school website meets the challenges of a rapidly-changing world.
Is your school's website compliant, complete, and inviting?
Your school's website has tremendous power. It must meet its compliance requirements, but it should do much more.
When your website is well-designed, and easy to use and maintain, it should provide complete information to all its visitors. It has the power to be a welcoming and inviting online resource that helps to engage your current pupils and their parents. Equally importantly, your website has the potential to be your most productive marketing tool – helping to attract more pupils every year.
Contact Design for Education today to find out more about our comprehensive school website services.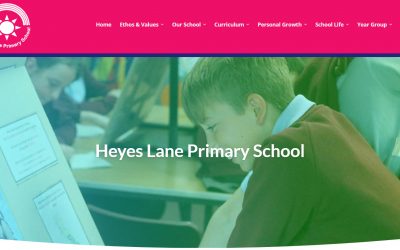 Our latest case study is Heyes Lane Primary School. This three-form entry school is located in Timperley, Greater Manchester and is relatively large, with 680 pupils, including a 52 place Nursery. Our team designed and built a new school website for Heyes Lane to develop a site that better met the requirements of their pupils, parents and staff.