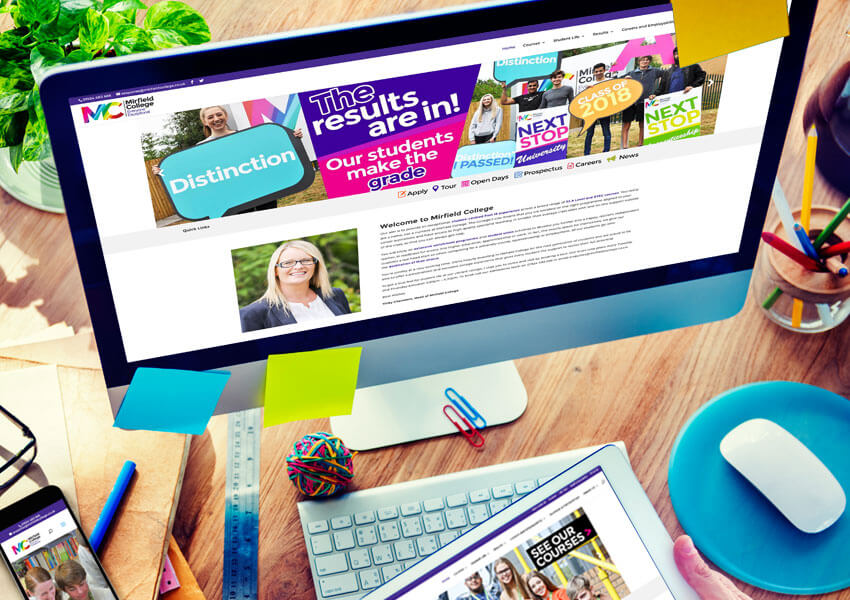 The new Mirfield Sixth Form College website welcomes more visitors
The Mirfield Sixth Form College (MSFC) website was part of a complete rebranding of the college. MSFC sought to promote themselves in a busy marketplace where several nearby higher educational establishments were competing for students from the same area. With great courses and facilities on offer to prospective students, MSFC wanted to better showcase themselves to the region.
Working alongside MSFC we identified the many selling points of the college and how to convey those to students. Digital media offers one of the best ways to reach many prospective students in this age group. The site also offers a great visitor experience for existing students. There is a wealth of information on courses, facilities, activities and useful guidance available.
MSFC branding has now been rolled out throughout the college and we have been involved in a number of projects including:
28 page printed and digital prospectus featuring courses, student life, facilities on offer and lots of useful information for prospective students
Banners such as the results day promotion showcasing the college's great results and where students successes will take them next
Leaflets, postcards, posters and adverts promoting the college in the local area
New stationery to reflect the college's rebrand
The finished result was a fully responsive sixth form college website viewable on all platforms. Fully compliant with Ofsted and DfE guidelines that can be updated in-house. The visitor experience has been dramatically improved with the scope to expand the site as the need arises. Our ongoing support and maintenance ensure security is guaranteed and hosting on Amazon servers provide 99.9% uptime.
If you are looking for a responsive Ofsted compliant sixth form college website take a look at our school websites page.