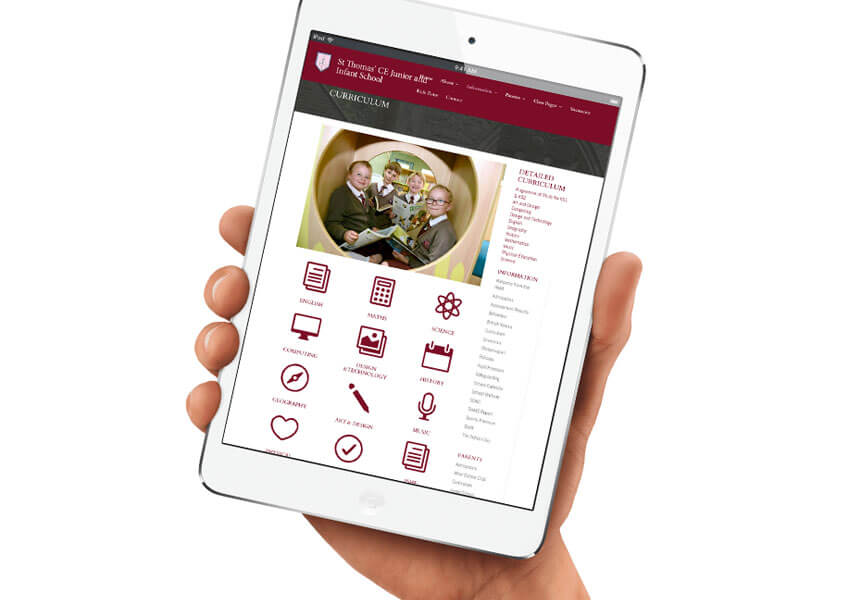 Great new primary school website
St Thomas' Junior and Infant School's great new primary school website has allowed them to better engage with the whole of their school community. St Thomas' is a school that provides a happy, secure and stimulating environment where children are motivated to learn and explore and the new website we created for them had to reflect these important core values.
The new website features the best in school website design, from great functionality such as the curriculum page to the Twitter feeds on the homepage and providing access to Class Dojo and Parent Pay. The site is now a tremendous environment for learning, news and forging stronger links between the school, parents/carers and pupils.
St Thomas' used our Enhanced Primary School Website Package as it was perfect for them and included everything they needed from a modern school website. The starting point was to audit their old website to identify any gaps in compliance with Ofsted and the DfE. Once this was completed we agreed the structure of the new site ensuring it filled all those gaps and provided a really good visitor experience. We came into the school to train the staff to use the updating system which is is included in our Enhance Primary Website Package.
St Thomas' now have a website that provides a fantastic portal to the school for a host of activities and one that can be accessed across a wide range of devices.
With technology changing at the rate it does you can't just build a website and forget about it for a couple of years it has to be constantly evolving with the school, our offering is designed to ensure this happens and includes:
A fully responsive website that can be viewed on any platform, mobile tablet or desktop
Easily updatable by your staff using WordPress CMS
Links to social media
Includes an Ofsted and DfE Audit to ensure compliance
All our packages include two hours of development time a month to ensure it is kept up to date. We regularly review the website with you to make sure its working exactly how you want it to, we can then update it, add functionality and new sections on an ongoing basis at no extra cost. So for example if you wanted a secure area creating for staff or parents, this would be done within you annual fee. We have set it up this way so you know exactly what the annual cost will be with no hidden surprises.
If you would like full details of our website packages including pricing or to arrange an online demo please contact one of our school website specialists who will be happy to discuss all your requirements. If you would like to find out more about our primary school website packages in the meantime have a look at our school website page